ABOUT BALCOMBE STREET. Studio flats...One bedroom flats....Two bedroom flats

NB! Regrettably these flats in Balcombe St are now only available for stays of 90 days or more and all are booked until December 2010 please enquire if interested. For a full list of short term rentals try London Apartment Net
These are flats are in Balcombe St., a quiet street in central London near Baker St. and Regents Park. The houses were built about 1820 as single family houses for wealthy merchants who might have had one or two servants. They were converted into apartments by us in 1960 with one flat on each floor. No. 33 Balcombe is the largest house on the street and has a large one bedroom flat on each floor ranging from 630 (top floor) to 540 square ft, while 31 Balcombe has studios which are 370 square feet each. The neighbourhood is residential and safe, I and my family (4 children) grew up here without serious incident! Shops are nearby including a grocery open 7 days a week until 10.30pm. As of November 2005 all the flats in Balcombe St will be non-smoking.
From August 2005 we now have a free wireless broadband internet connection for tenants at Balcombe St with their own computers.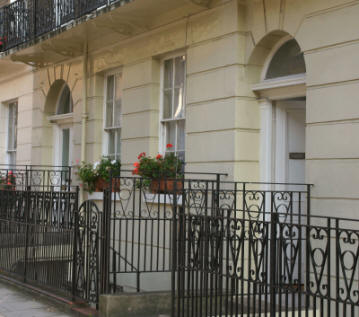 The Houses in Balcombe St
Local amenities include Regents Park, London Zoo, Madame Tussauds, The London Planetarium, Speakers Corner, The Royal Academy of Music, (where the students give free concerts), Church St market, 221b Baker St. (Sherlock Holmes), Harley St., Seymour Hall Pool & Gym., Jason's Trip, (Canal boat ride).
There are washer/dryers in the one bedroom flats but a launderette is just around the corner in Ivor Place where you can do it yourself or get a service wash.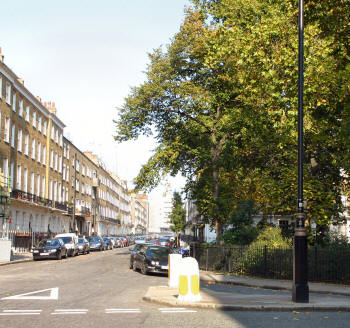 Balcombe St from Dorset Square
There is a private telephone in each flat, and a free broadband connection (modems can be used) gas, electricity, phone, TV licence and council tax are the responsibility of the tenant.
The studio flats comprise a large studio room with twin divan beds, (one with double bed) armchairs, desk, TV, chest of drawers, cupboard etc. Each flat has a fully equipped kitchen/breakfast room and bathroom.
The one bedroom flats comprise a living room with a double sofa bed, a single bed, arm chairs, desk, TV, table, chest of drawers etc. The bedroom has twin beds, wardrobe and chest of drawers (we have only one flat, three flights up, with a double bed) each flat has a fully equipped kitchen/breakfast room and bathroom.
Local transport is excellent. There are 17 different bus routes nearby as well as the A2 airbus from Heathrow which you can ask to stop at the junction of Balcombe St. and Marylebone Road. Baker St (with 5 lines) and Marylebone tube stations are both less than 5 minutes walk. Both are in zone one (central).